Contact Information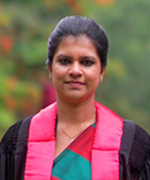 ---
Head Of the Department :
Dr. Piumnil Gamagedara
---
Address :
Department of Basic Sciences,
Faculty of Allied Health Sciences,
University of Peradeniya,
Augusta Hill, Sri Amarawansa Mawatha
Peradeniya,
Sri Lanka

---
Telephone :
+94-81-2065782
---
Head's Message
Basic Sciences, Faculty of Allied Health Sciences, University of Peradeniya. The primary goal of our Department is to provide students with the strong scientific background required to excel in Nursing and Allied Health Sciences. The Department's curriculum is designed to meet the specific knowledge and competencies in Basic Sciences required for Nursing, Pharmacy, Physiotherapy, Medical Laboratory Sciences, Radiography and Radiotherapy degree programmes. We are dedicated to laying a strong foundation for your journey in the Health Science field, by offering Human Physiology, Human Anatomy, Basic Biochemistry, General Pathology, Basic Statistics and Analytical Chemistry course modules. These basic courses enable you to understand living systems and develop the skills critical to Health Sciences education. We focus on training you in critical thinking, problem solving, organization of data and, importantly, studying clinical cases and real life examples. The Department of Basic Sciences is comprised of highly qualified academic and non-academic staff, dedicated to quality teaching, research advancement and encouraging students to progress beyond the simple learning of scientific facts. Our team is enthusiastic about keeping you up to date with novel advancements in Basic Science and the high quality of our teaching and research is frequently noted in student and peer feedback. . In addition to lectures and practical exposure, final year students participate in research projects directed by the Department. Our comprehensive approach is producing scientists in the field of Health Sciences who understand the challenges of our time and make positive contributions to local and national prosperity. We encourage all staff and students to adhere to our core values of collaboration, teamwork, and openness within an environment of mutual respect and professional ethics. I'm privileged to be a part of this talented community and warmly welcome you all to the world of Health Sciences.

Dr. Piumnil Gamagedara.
Department of Basic Science.