Contact Information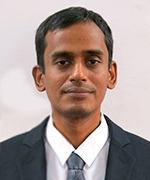 ---
Head Of the Dept. :
Mr. A.L.I. Prasanna ;
BPT. (India), M. Phil. (PDN)
---
Address :
Department of Pharmacy,
Faculty of Allied Health Sciences of University of Peradeniya,
Augusta Hill, Sri Amarawansa Mawatha
Peradeniya,
Sri Lanka

---
Telephone :
+94-81-3999623
---
Head's Message
Physiotherapy or physical therapy is a treatment method which utilises physical modalities and exercises. It has become an integral part of holistic patient care approach and especially exercises and mobility are the themes of healthier lifestyle.

The curriculum of the programme was designed to address key aspects of rehabilitation in the year 2006. After several rounds of revision the present curriculum comprises of 120 credits, thus, a 4 year Bachelor of Science Physiotherapy (Honours) degree programme.

The programme covers theoretical, practical and clinical aspects of physiotherapy. The students are provided with more than 1000 hrs. of clinical training in various teaching hospitals.

The Department facilitates strong research culture among academics and students. An undergraduate research project is a part of the curriculum.

The Department is in the process of introducing Mater of Science in physiotherapy programme, this will be available for students in recent future.

Physiotherapy community service and dissemination of knowledge are other key areas the department involves in. Physiotherapy service centre attached to department provides physiotherapy services to referred patients. Lung function testing, physical fitness testing are few other services provided by the department.

We also provide community based rehabilitation programme and geriatric rehabilitation services at the elderly care facilities in Kandy districts and awareness programmes related to physiotherapy in government and private sectors.

I warmly welcome you to the Department of Physiotherapy.